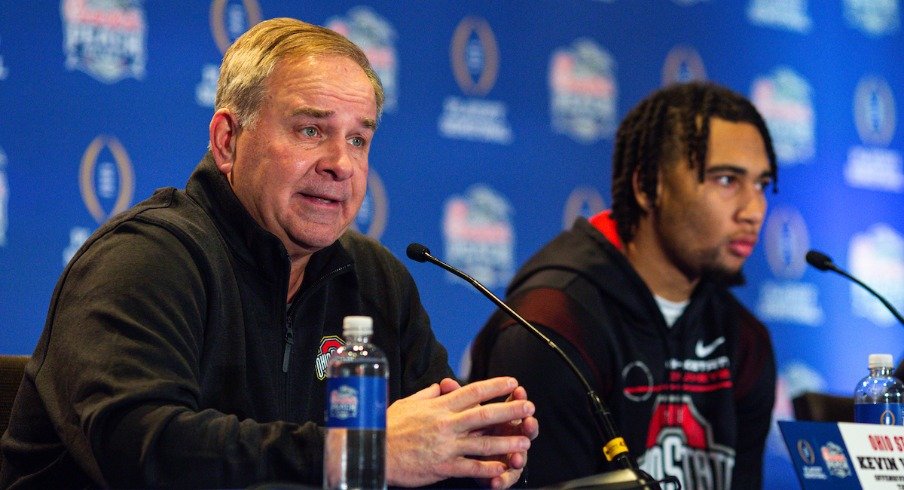 Jason Parkhurst, Peach Bowl
Six Buckeyes took the podium at the Westin Peachtree Plaza on Tuesday as the first day of in-person Peach Bowl press conferences began in Atlanta.
Ohio State tight ends offensive/coaching coordinator Kevin Wilson, CJ Stroud and Emeka Egbuka were first on the microphone to discuss Peach Bowl lead-ups and Saturday's College Football Playoff semifinal with Georgia, and Marvin Harrison Jr., Paris Johnson Jr. and Chip Trayanum followed after that.
eleven warriors wrote down everything each Buckeye said below:
Kevin Wilson

Wilson says Ryan Day was "adamant" about shutting down game planning until the end of the recruiting cycle and says this is "playoff" week, not "bowling" week, and that makes a big difference.

Of Georgia's tight ends, Wilson says "both groups will be huge on Saturday night as both teams attack each other."

Of Jalen Carter, Wilson says Georgia "has a lot of great players, they always have" and it starts with the work coaches do in recruiting and developing players. Wilson says Ohio State is busy "not just with him" but with several Bulldogs. Wilsons says it will be "a two-way attack game".

Wilson says "the game isn't perfect" and the Buckeyes' best game is yet to come. "Not trying to be perfect…but it has to be all we've got."

Wilson says Miyan Williams had "the biggest job she's had so far" in practice yesterday after struggling with injuries in the second half of the season. Wilson says the Buckeyes need more than one running back against Georgia.

As he juggled responsibilities with his new job in Tulsa, Wilson says he had to "recruit his own team so nobody jumps in the portal." Wilson says that "70%" of his time was devoted to the OSU bowl game and that much of the extra work for Tulsa took place "late at night".

On being an underdog, Wilson says the Buckeyes haven't talked about it much, but says the team is "chasing greatness."
CJ Stroud

Stroud says playing for a national championship "has been a goal of mine since I was in high school."

Stroud says it's nice not having to deal with the cold in Columbus or the Big Ten and thinks "the atmosphere will be cool" at the Peach Bowl.

On his Georgia draft, Stroud says there is "nothing but respect on both sides" and that the Bulldogs came second in his draft.

Stroud says Wilson did the same thing in bowl prep that he always did. He says there's "no confusion" about his role after he took over as head coach at Tulsa and thinks Wilson will do a great job at Tulsa. Stroud says Wilson has the "aura of a head coach".

Stroud says OSU has to play "Buckeye football" and not worry about what LSU did against Georgia. "I'm sure they'll have a plan for that."

Stroud says that whenever he's at the OSU practice facility, Marvin Harrison Jr. and Egbuka are "there or coming". Stroud says his "dog mentality" has paid off this season.

On being an underdog, Stroud says "it's football" and he hasn't given it much thought. Stroud says talking to players on Georiga, "is about respect."
Emeka Egbuka

"I'm very confident in the talent we have on offense" and says the Buckeyes "will look to exploit that in every way we can."

"We have to play a complete game not only in terms of receiving passes but also running blocking, ensuring there are little to no mistakes." Egbuka says that Buckeye wideouts have always strived to make big plays in big games, and that the group "enjoys being those guys in those scenarios."

"I feel more locked in, I feel more focused" than last year's Rose Bowl. Egbuka says "it's going to be a hard-fought game into the fourth quarter."

Egbuka says he knows Ohio State will face adversity at some point in Saturday's game.

On being an underdog, Egbuka says "you can look back and see what the last No. 4 Ohio State team did."

"We've been excluded before, so it's not news to us."
Marvin Harrison Jr.

Harrison says he "had a lot of fun this year", even though the Buckeyes "didn't complete any of our goals".

Asked about his father, Harrison says: "I'm my own player first and foremost. My dad did great things, but I'm just trying to be myself."

Harrison says the Buckeyes will "care about ourselves" and not make a big deal out of what LSU did against Georgia.

On being the underdog, Harrison says "it's always been Ohio against the world". Harrison says he "likes to be the villain and the underdog" in a game and enjoys playing Georgia in Atlanta for that reason.

Harrison says the Buckeyes have emphasized physicality all season and that the team "didn't do anything different" to prepare for Georgia in terms of physicality.

Harrison says Kyle McCord is "getting better every day" and still needs to be ready in case something happens to Stroud.

Harrison says he is "definitely proud of Coach Wilson" for landing the head coaching job. "He's going to do great things in Tulsa."
paris johnson jr.

"They have a strong defensive line and I think it's probably one of the strongest units" on the team. "It's not anyone in your lineup that you neglect in terms of preparation."

When studying Georgia's defensive line, Johnson says he usually likes to look at the last five games, games against his best opponents or if they were against a specific offensive tackle. But Johnson says he managed to watch almost all of Georgia's games in the run-up to the CFP.

In the LSU game, Johnson says he learned "big lessons" for the offensive line room going into the Peach Bowl.

Johnson says this game exemplifies the "Ohio versus the world" mantra.

Johnson says physicality is "by far the biggest factor in this game" and that he is happy to be an offensive lineman. "That's what it will take to beat them."

Johnson says he hasn't thought about any SEC-Big Ten rivalry "one time" since the matchup was announced.

Johnson says Kevin Wilson coached his father in Miami (Ohio) and wants to see Wilson succeed and be happy in Tulsa. "When he took the job and went back to practice, you can see the smile and the juice he had because this is his last race at Ohio State."
Chip Trayanum

Trayanum says "we believe we have to have our best game on offense" and says the OSU offense appears to be on track to do that based on the practices the unit has been having.

"I think everyone shuts us out," but says that's why you wear the Buckeye uniform.

Trayanum says playing linebacker helped him become a better running back. "Since I got back on the attack, I've had nothing but praise from my teammates."

Trayanum says all of the treadmill training and winter training has made the Buckeyes comfortable with the physicality that will take place on the field on Saturday.

Trayanum says that "we're not worried about bragging rights" when it comes to the SEC vs. Big Ten.

"There's only one trophy that matters at the end of the day."

Trayanum says he "doesn't even get nervous anymore" because he feels so proud to play for his home state of Ohio.

Trayanum says he's known Kevin Wilson since his sophomore year of high school and was happy to see him get the head coaching job.