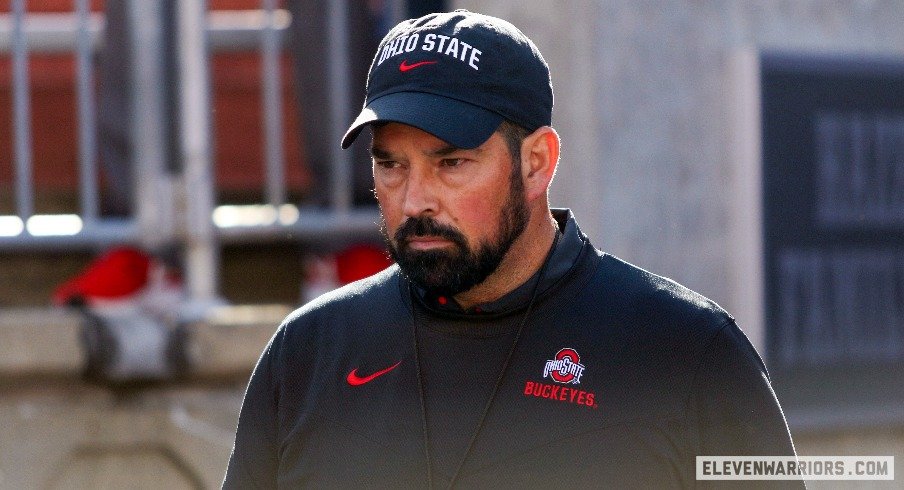 The Peach Bowl festivities have officially begun.
Ryan Day met with media on Zoom after Ohio State's coaches and players arrived in Atlanta Sunday night and settled into their hotel on Monday. The fourth-year coach spoke about the opportunity against the Buckeyes, what another trip to the CFP means to the program and how his team will face Georgia on New Year's Eve.
on site #gobucks pic.twitter.com/v0FM9l77Ff

— Ohio State Football (@OhioStateFB) December 26, 2022
Here's a rundown of everything Day said at the press conference:
Ryan's day

Day said Ohio State "had a really good workout (Monday)" and is "looking forward to a great week here (in Atlanta)". The Buckeyes arrived in Atlanta late on Christmas Day.

"The whole month has been really good for us as a team. We've done a really good job." Day said Ohio State had broken down bowl practices into Georgia fundamentals and planning. The fundamental work is over and the Buckeyes are now fully prepared for the Bulldogs.

"We'll see when we get to Saturday, but I can tell you that our people have been working hard, our team has been working hard… We're going to prepare as much as we can on and off the pitch this week." Day said Ohio State will continue to work hard in the coming days leading up to New Year's Eve.

Day said that Ohio State learned from their experiences on previous College Football Playoff trips to help them against Georgia. "We have some really good examples for what will happen during this game… Every yard is a struggle, every first down, every point."

Day said Ohio State's experienced players will be heavily dependent on Saturday to succeed. "The leadership will have to play very well. … The seniors will have to play like seniors." Day believes the Buckeyes have grown tremendously from Week 1 to now and the veteran leadership has played a significant role in that.

"We certainly have a very talented opponent in Georgia… We know what we're up against." Day said the Bulldogs have talent everywhere, especially on the defensive side of football, and he looks forward to the challenge they will bring to Ohio State on Saturday.

"You have to keep as much of a routine as possible," Day said of traveling to Atlanta and preparing for the Bulldogs in a place other than Columbus. "Our guys are going to do a great job focusing on what's important here, and that's playing on Saturday."

Day said Ohio State's playoff uniforms honor the traditions of past teams. "That's something we've done here in the past. Our guys like it. We've gotten good feedback on them, so we went with them again this year."

Day said Georgia did "a great recruiting job and has depth in many positions." He added that Georgia has enough players at each position that it allows them to "roll" different players into various positions. "It lets us know we can't focus too much on the guys" and Ohio State needs to be thorough with its pre-game scouting to know what each Bulldogs player brings to the table.

Day said Ohio State will assess whether a paced offense will work against Georgia and "see how that fits" into the game plan. "I think if you have the ability to change from game to game, possession to possession, that could become a weapon for us."

Day says a "good chunk" of the team didn't come to Atlanta last night, as players came from different parts of the country after the brief holiday.

Day said Georgia will try to "challenge him in a lot of different areas", especially in running. "At the end of the day, it comes down to the fundamentals" to beat the Bulldogs and will require a lot of focus from the players to ensure they put themselves in a position to succeed. "Having the extra weeks of prep helped the guys for sure."

Day said the Georgia defensive line will try to cause disruptions in Ohio State's backfield. "When you look at their defensive line you see very good players with very good size… I think they do a very good job with their hands and occupy space… We will certainly be challenged here on Saturday."

Day said Ohio State did a lot of "good versus good" drills with Ohio State's starters on offense and defense facing each other for players to "maintain their advantage," which Day believes will help the Buckeyes as they try to get ready for Georgia on Saturday.
Tommy Eichenberg and Cade Stover also met with the media on Monday, as did Georgia coach Kirby Smart, center Sedrick Van Pran and cornerback Kamari Lassiter, and we've got some notes of what each of them had to say below.
Tommy Eichenberg

Eichenberg says he had "no familiarity" with the Georgia program before studying its tape in recent weeks, as well as watching some of its games throughout the season.

Eichenberg said Ohio State will be ready for anything Georgia throws at them. He expects the Bulldogs to be physical in all three phases of games, but believes Ohio State's defense will need to be more prepared for how UGA will attack the Buckeyes' defensive front with a powerful running game that deserves respect.
Cade Stover

Stover said the Michigan game hurts, yes, but right now we're not worried about that "and said Ohio State's focus is all on Georgia right now."

Stover said Ohio State has a lot of very versatile players, taking the likes of him, Steele Chambers, Xavier Johnson, etc. "holding different positions" who were not drafted to play for the Buckeyes but ended up playing this season.

"Anytime you have the opportunity to get back on the field sooner than expected is beneficial," Stover said of Ohio State's acceptance into the College Football Playoff and the Buckeyes' chance to play for a national championship.

Stover said Ohio State is not satisfied with any possession that doesn't score a touchdown. Still, he acknowledged "other teams' practices as well" and is prepared to stop the Buckeyes so they understand they're not going to score on every possession, requiring them to be solid with game adjustments to succeed.

Stover said the tight end "is a key part of a good offense." He said the position has had a renaissance recently because of the importance of having a player who can block and catch passes, which talented tight ends do at an extremely high rate.

Stover said the Ohio State players are not focused on what is being said about them by the media and fans and are "just focused on winning this game".

Cade Stover says he's "never going to admit" how much injuries have affected his performance over the course of the regular season, as he believes football players "sign up" to play with bumps and bruises and thinks that's part of the job description of a college football player.
Smart Kirby

Asked about injuries to wide receiver Ladd McConkey and right tackle Warren McClendon, Smart said: "We're looking forward to getting those guys back."

Asked if he expects Ohio State's defensive setup on Saturday to look like most of the season or like Michigan, Smart said, "We're hoping to see a little bit of all of that." He thinks that will be determined in part by the offensive personnel Georgia uses.

Asked about recruiting CJ Stroud, Smart praised Stroud's mother and said he was impressed by Stroud's maturity and balanced temperament. Smart said Georgia really liked his tools back then, but he "became a complete quarterback" at Ohio State.

Smart said the Bulldogs regularly use three running backs because they think it's crucial to keeping their backs healthy.

Smart said it helps that he's already played Mercedes-Benz Stadium twice this year, but he thinks Ohio State will be pretty familiar with the venue on Saturday after practicing there all week.
Sedrick Van Pran

Van Pran said Ohio State moves a lot in front of the defense, so it's something the Bulldogs have to be prepared for.

He said he doesn't see Georgia as having a huge advantage because of their familiarity playing at Mercedes-Benz Stadium. "This is a tiebreaker game. Ohio State is going to give it all they've got."
Kamari Lassiter

"Ohio State, they definitely have a lot of great receivers, great quarterbacks. We have a lot of respect for them."

Lassiter said the Bulldogs "went back to basics" after giving up 502 passing yards against LSU.

Lassiter said Ohio State's offense is "pretty unique with what they do and how well they do it." He described CJ Stroud as a "dynamic quarterback" and said he is impressed with the Buckeyes' outside receivers.