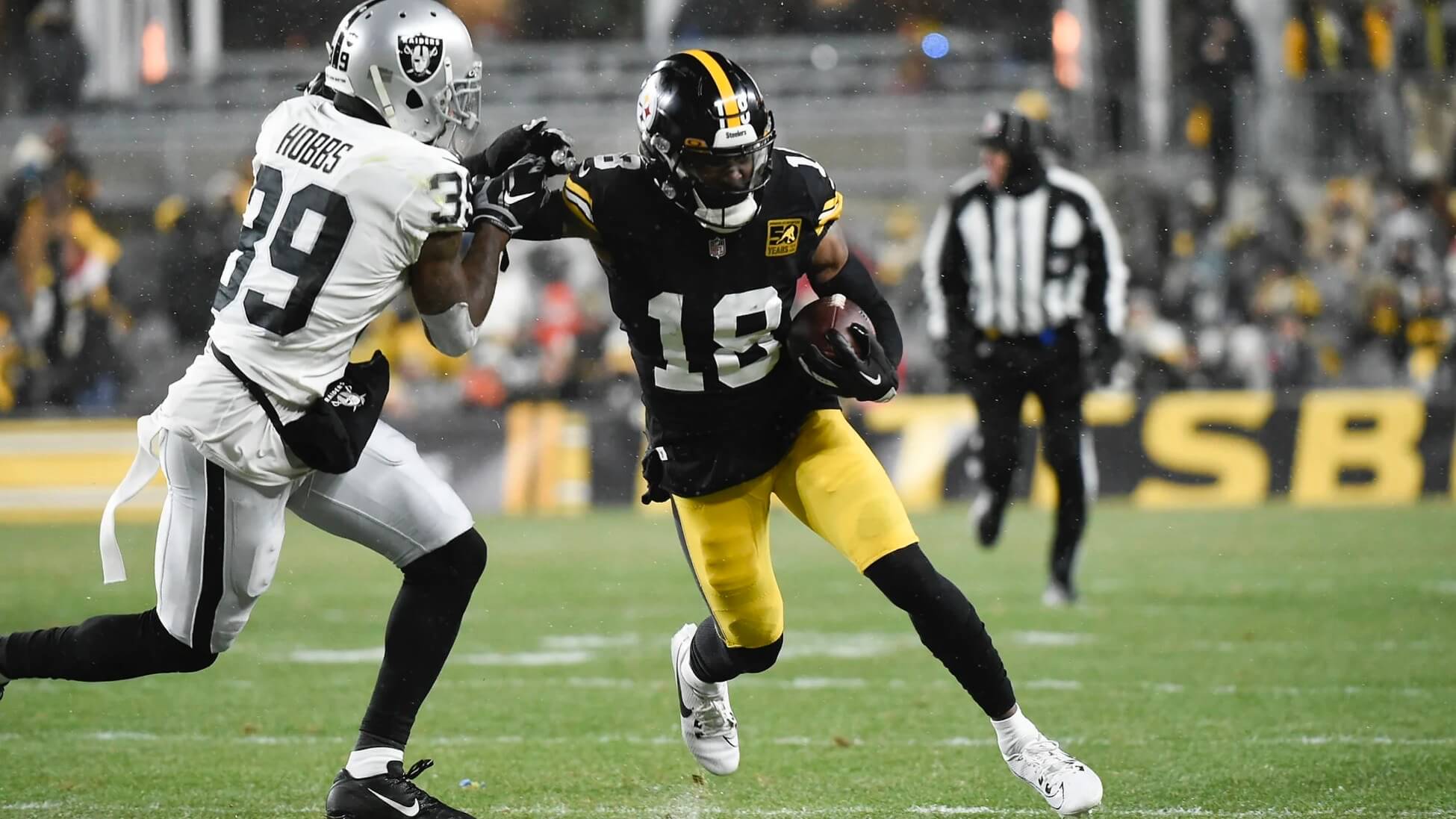 Good morning and Merry Christmas to everyone in the Uni Watch community!
Now: Fifty years and one day after the Immaculate Reception, and four days after the death of Franco Harris, the Steelers got almost everything right last night. The festivities and honors included the following:
But there was one thing that was quite simple yet visually powerful that they chose not do: they didn't trade their black masks for gray, even though that's what the Steelers were wearing on that fateful day 50 years ago.
The Steelers routinely stick to their black masks when using their kickers. There's nothing wrong or historically accurate about that in itself, because they wore black masks along with the block numbers from 1977 to 1996. But last night's throwback game was specifically tied to the Immaculate Reception, not the general era of block numbers. blocks, so I'm disappointed and frankly surprised they didn't go further with the gray shades.
The issue of face masks is particularly interesting in light of something that longtime reader William Yurasko noted. As you probably know, there are two statues in Pittsburgh that show Harris earning the Immaculate Reception – one at the Pittsburgh Airport and the other at the Western Pennsylvania Sports Museum at the Heinz History Center. Yurasko has recently noticed that the helmet and mask on both statues have changed slightly over the years.
Let's start with the airport statue: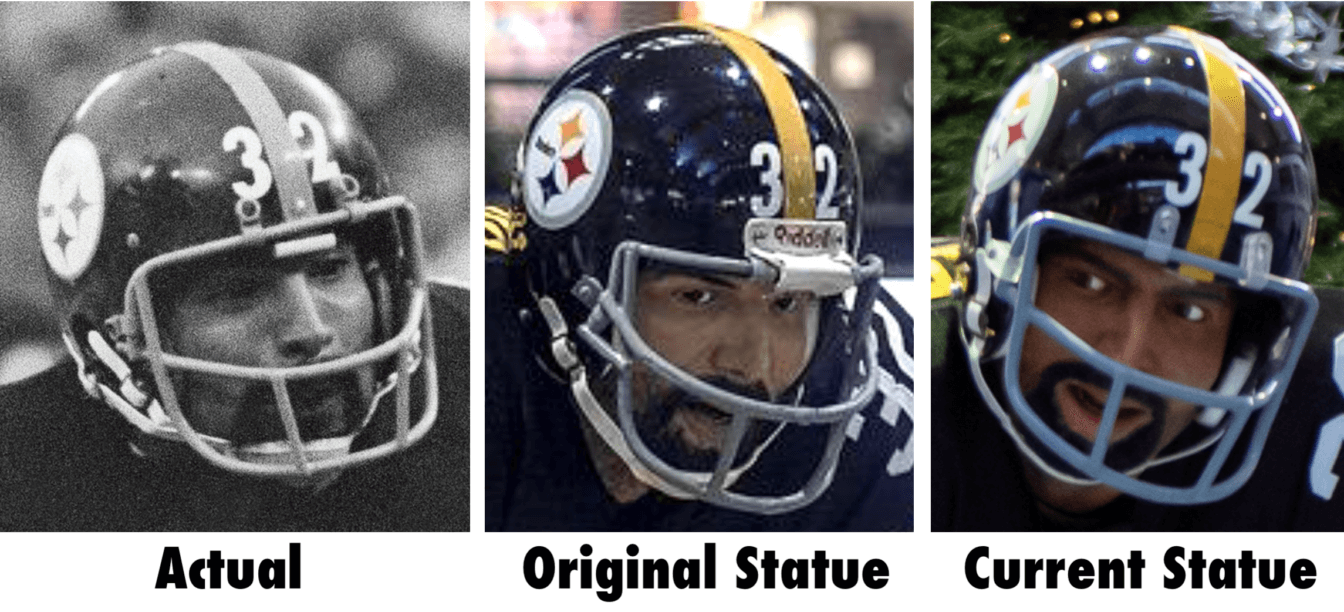 As you can see, the original statue had the wrong type of nose pad and a slightly inaccurate mask. The new version is closer to what Harris actually wore (although it still lacks the proper "rubber bumper" nose fender).
Now let's look at the museum statue: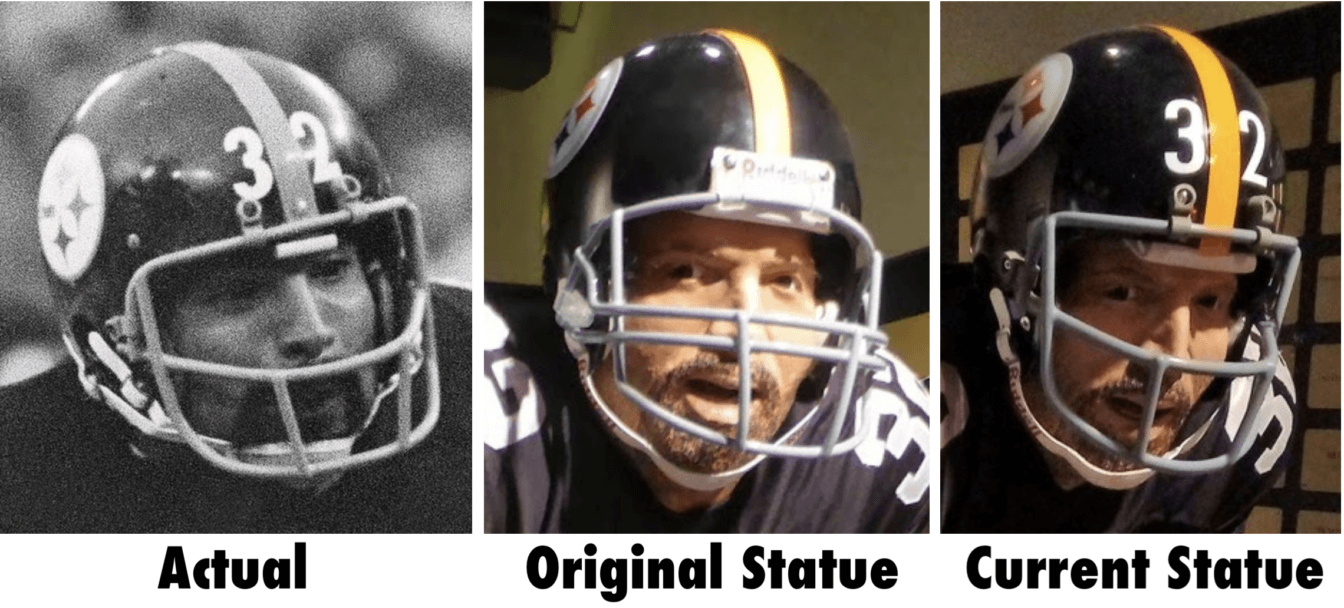 Wow, the original version was a disaster! Wrong mask, wrong bumper and no front helmet numbers! The current version is much better.
It's not clear to me when these changes were made. Anyone..?
One other thing about last night's game: The Steelers used throwback end zones with the old AFC logo – but they also used the current NFL logo. A strange duo: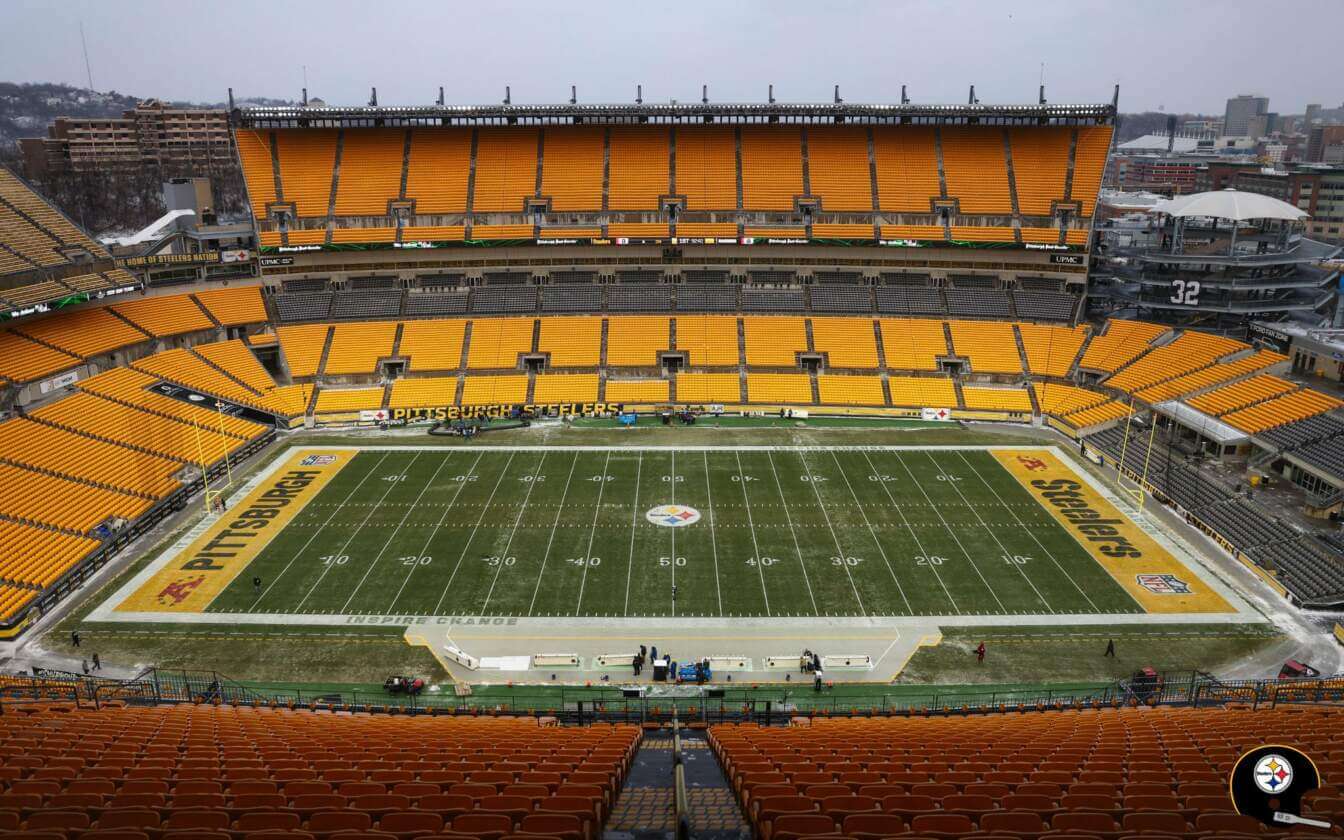 Meanwhile: Santa Claus left something extra under the tree this year for several dozen lucky Uni Watch readers – the winners of our annual end-of-year giveaway. Here are this year's winners and the awards they've won (you can see photos of the awards here):
1. Uni Watch Membership Card — Joe Yesh*
two. Substack Signature — Jim Brewer**
3. Green Uni Watch Basketball Jersey — Chris Jennings
4. Uni Watch White Basketball Jersey — Josue Rodriguez
5. Green Uni Watch hockey jersey —William Yurasko
6. White Uni Watch hockey jersey — Amy Marantino
7. Uni Watch Tequila Sunrise T-Shirt — Nathaniel Studebaker
8. Uni Watch blank notebook — Phil Fleckenstein
9. Uni Watch "Golden Circle" Cap — Stephen Foelster
10. Sunset purple tequila shirt — Nick Emanuel
11. Puppy Bowl Sweatshirt — Dave Feit
12. Puppy Bowl Socks — Ryan Madden
13. Puppy Bowl Bandanas – Michael Altese
14. Replica 49ers jersey — Alex Rubin
15. Purple windbreaker — Will Klumpehower
16. Purple cycling jersey — Mark Emge
17. Purple Socks — Paul Burclaff
18. Sabers Reverse Retro Shirt — Adam Badt
19. Retro Sabers Reverse Hat — Shawn Dzwonkowski
20. Mets Blood Donor T-Shirt — Steve Droho
21. A Mets/Seinfeld T-shirt — Brian Noel
22. Mets bracelets — Mitchell Scherr
23. Cyclones Easter Baseball – Charles Reynolds
24. Another Cyclones Easter Baseball — Kyle Naber
25. Space Cowboys T-Shirt — Mark Sakowitz
26. Space Cowboys Cap — Rex Doane
26A. "Brip" Football Jersey — Andy Zak
27. "Kit Swap" Football Jersey — Terry Mark
28. Atlético Nacional jersey — Mike Boyce
29. Harry M. Stevens polo shirt —Kevin Corcoran
30. Ray Fosse — Al Villacara memorial patch
31. Football Bobblehead — Mike Enriquez
32. Kranepool autographed ticket stub — Glenn D'Auria
33. The NFL's Big Fun Book – Drew Tornquist
34. The Greatest Fun of the NFL Book II — Ryan Perkins
35. black fives book -Jay Palmer
36. all caps book – Brent Wilson
37. Dodgers Mail Order Brochure — Dave Richards

*Joe, let me know what you want for your membership card.

**Jim, your one year Premium subscription is now active. You will be able to access all Premium articles on my Substack page and you will receive all articles by email starting next week.
Congratulations to all the winners, thanks to all the participants and double thanks to the people who donated some of the prizes. I will try to send everything by mail by the New Year!
Today, I'm going to cook and bake some, and then take the resulting edibles to my friends Garth and Nina's house in Manhattan, where I'll be attending their annual Christmas party. However you are spending your day, please accept my best wishes for a safe, healthy and happy holiday, and my thanks for being part of the very special community we have all built here. Peace. 🇧🇷 Paul
(Special thanks to William Yurasko for the statue notes, Rich DeMarco for the item on the end zone logos, and our own Jerry Wolper for the tweet about the retro scoreboard graphics.)